Flaring of Gas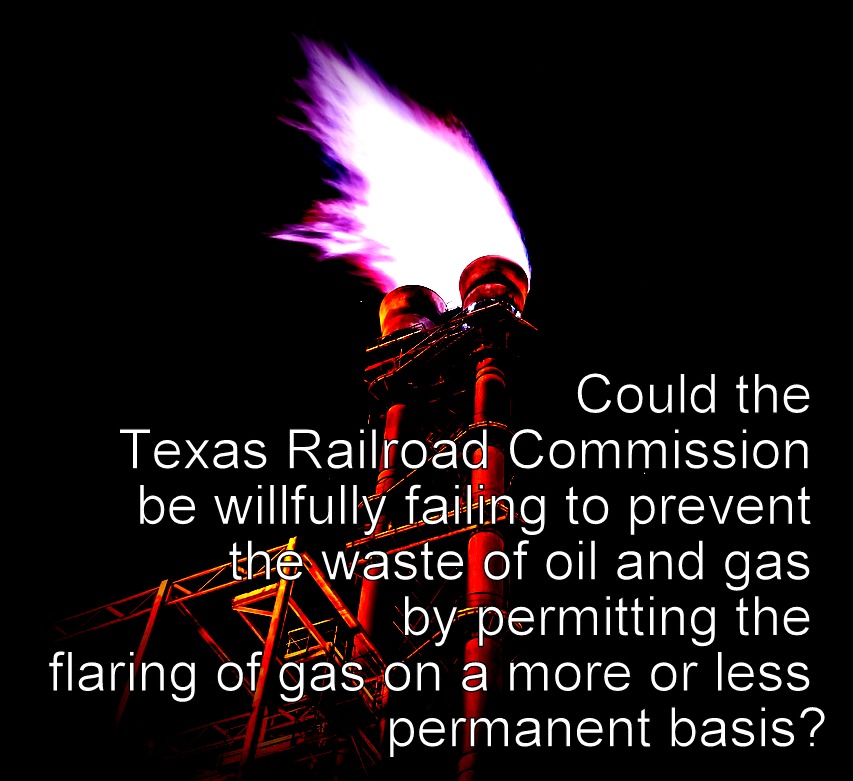 I was recently travelling south of San Antonio on Highway 16 through the Eagle Ford Shale oilfield.  Rising out of the brush country arose a very tall tower with an enormous flame on top.  Obviously, some company was flaring gas from many wells at the same facility.  It was by far the largest gas flare I had ever seen and, based upon the size of the structure, it was evident the owner had every intention of flaring an enormous amount of gas for a long time.
On December 4, 2019, the Houston Chronicle published a lengthy story in its Business Section concerning a lawsuit filed by a gas company against the Texas Railroad Commission which alleges that the Commission is willfully failing to fulfill its duty to prevent the waste of oil and gas by permitting the flaring of gas on a more or less permanent basis.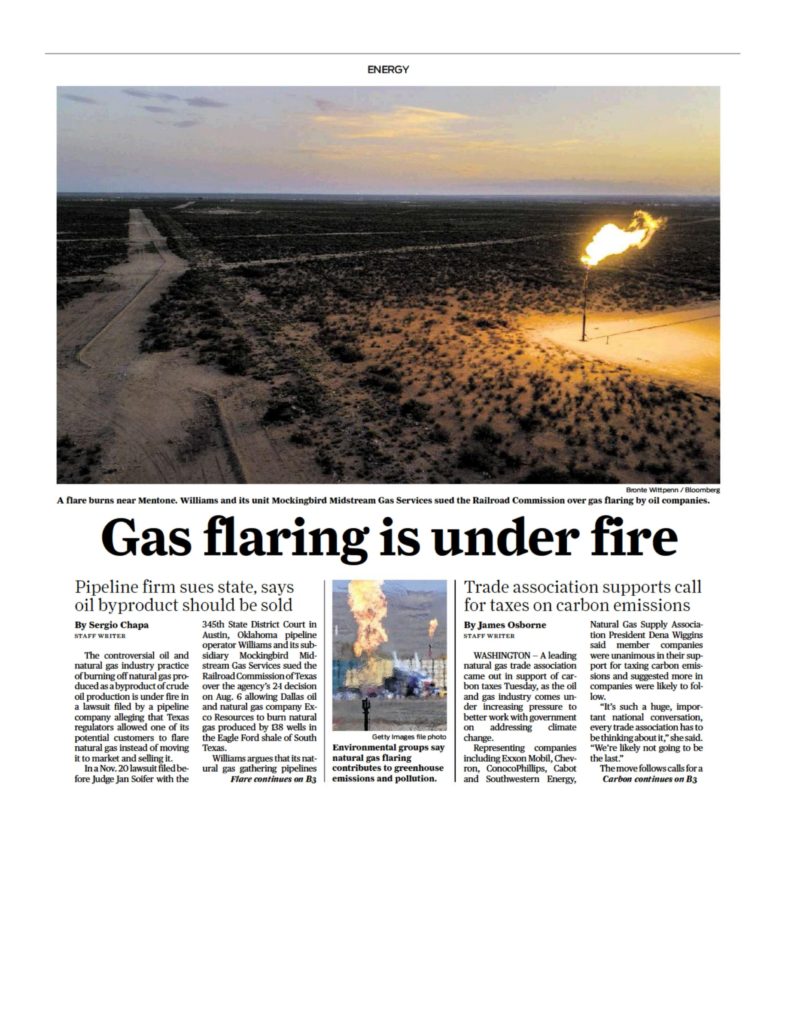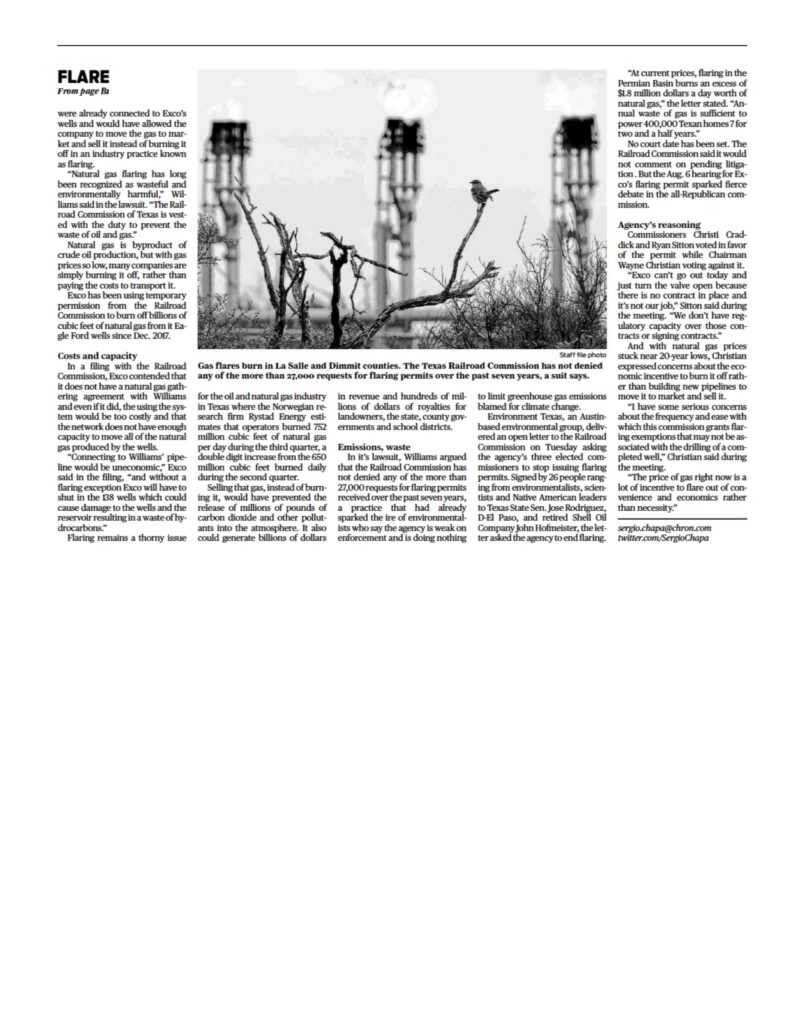 The research shows that oil and gas operators burned 752 million cubic feet of gas per day during the third quarter of this year.  They burned 650 million cubic feet per day during the second quarter.   
The burning of natural gas is permitted if there is no pipeline gathering system available to transport it to market.  This is intended to be a temporary fix for a short term problem.  In other words, if an operator completes an oil well and there is no outlet for the gas that is produced, the operator can apply to the Railroad Commission for a permit to burn the gas temporarily while the operator produces the oil.  This makes some sense, but the system was never intended as a permanent solution.
Burning natural gas releases large amounts of carbon dioxide and other pollutants into the air.  The flaring of natural gas is a major contributor to global warming.
The lawsuit alleges that the Texas Railroad Commission has not denied even one of more than 27,000 requested flaring permits over the last seven years.
The true problem is that natural gas prices are so low and there is so much excess natural gas that it is not economical to build the pipelines necessary to transport the gas.  At the same time, owners and operators of oil wells want to produce oil from their wells, which they can't do without simultaneously producing gas.  The gas must go somewhere, so it is burned and we all pay an environmental price for that choice. 
As I said, flaring of natural gas was never intended to be a permanent solution.  Excess gas in the market place is a chronic problem that is predicted to last into the indefinite future.  What is the solution?
There are no solutions that don't involve some financial pain and structural changes in the oil and gas industry.  In a free market system, oil producers who are producing natural gas as an unwanted byproduct have no financial incentive to stop drilling or cut back on producing oil so long as they are permitted to flare.  The only solution which seems plausible to me is for the Railroad Commission to reduce the allowable production from oil wells; stop issuing permits to flare gas; and, stop issuing permits for new oil wells in established areas of production unless the operator can demonstrate prior to drilling that there is an existing gathering system and pipeline infrastructure capable of and willing to accept the gas. 
There are times when an oil company intends to drill an exploration well (sometimes called a wildcat well or discovery well) that is truly exploratory.  That is to say, there is no proven production in the area and, consequently, no existing pipeline.  That is not the situation in the Eagle Ford Shale of South Texas or in the Permian Basin of West Texas.  Operators in those areas are drilling oil wells that are in highly developed fields and there is very, very little risk that the well won't be successful.  In these situations they also know in advance that there is no or insufficient pipeline infrastructure for the gas they know they will produce, yet they drill the wells anyway because they know the Railroad Commission will allow them to flare the gas.  This should be stopped. When you know that what you are about to do is enormously wasteful and has really bad environmental consequences, you shouldn't do it or you shouldn't be permitted by the Railroad Commission to do it.
The Railroad Commission has long been correctly seen as an agency dominated and controlled by the oil and gas industry.  In the present situation we have powerful industries which are usually natural allies engaging in an intramural fight.  It will be interesting to see what happens, but I seriously doubt we'll see anything happen that will put those flares out any time soon. 
In a related article appearing on the same day, it was reported that the Natural Gas Supply Association is supporting carbon taxes at the national, state and regional level.  This trade association represents all of the largest oil and gas companies.  This major move is not entirely altruistic.  Natural gas is a hydrocarbon which produces greenhouse gas emissions.  However, natural gas produces less carbon than coal.  By adding a carbon tax to the cost of burning coal for power, coal-fired power plants will become even more financially unattractive.  Considering the Trump and Republican stance regarding coal, regulation and global warming, it is highly unlikely we will see a carbon tax until there is a change in administrations and a change in the balance of power in Congress.
The gas association did not mention doing anything to reduce the flaring of gas or the cost of a carbon tax attributable to flaring. 
*Article and images within article are property of the Houston Chronicle and HoustonChronicle.com