Hungry Children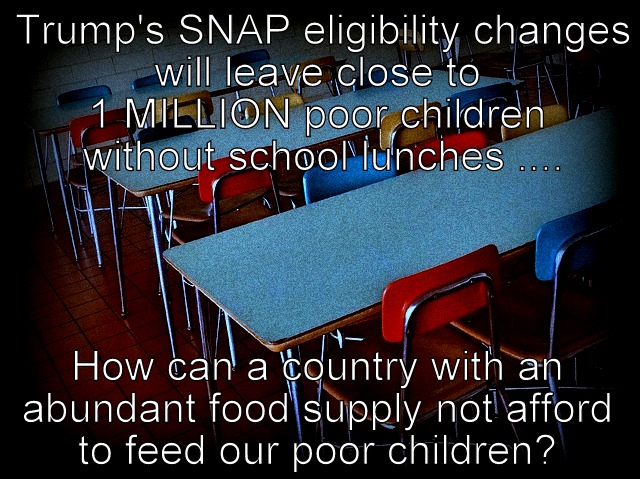 Trump intends to cut school lunches for almost one million poor children.  This is as a consequence of his decision to make it more difficult for poor families to qualify for the federal Supplemental Nutrition Assistance Program (SNAP), more commonly and often derisively known as "food stamps".  Trump's plan is to disqualify all families with more than $2,500 in assets, or $3,500 for a household with a disabled adult, from receiving food stamps.  Considering that $2,500 roughly equates to a junker car, this is draconian.  For those families who qualify for food stamps, the children are automatically eligible for free school meals.  Trump's rule change will mean that 982,000 children will lose their automatic eligibility for free school meals.
As is true for everything, context is important.  Trump's tax cuts have us on a trajectory to have a record budget deficit.  Income and wealth inequality are the greatest ever.  Real wages, i.e., wages adjusted for inflation, have barely increased in over 25 years, despite our current state of full employment.  Not even the Federal Reserve can explain why wages are not rising faster.  Trump, like most Republicans, opposes raising the minimum wage to anything even close to a living wage.  The cost of medical care and health insurance soar ever upward and Trump and Republicans vehemently oppose Obamacare and want to make it more difficult to qualify for Medicaid.  Housing costs are very high and affordable, decent housing is in short supply.  Social programs are under attack at the federal and state level.
There is never a good time to be poor, but it is especially tough now.  Surely, as a rich country with an abundant food supply, we have enough empathy and compassion to feed poor children.