Safety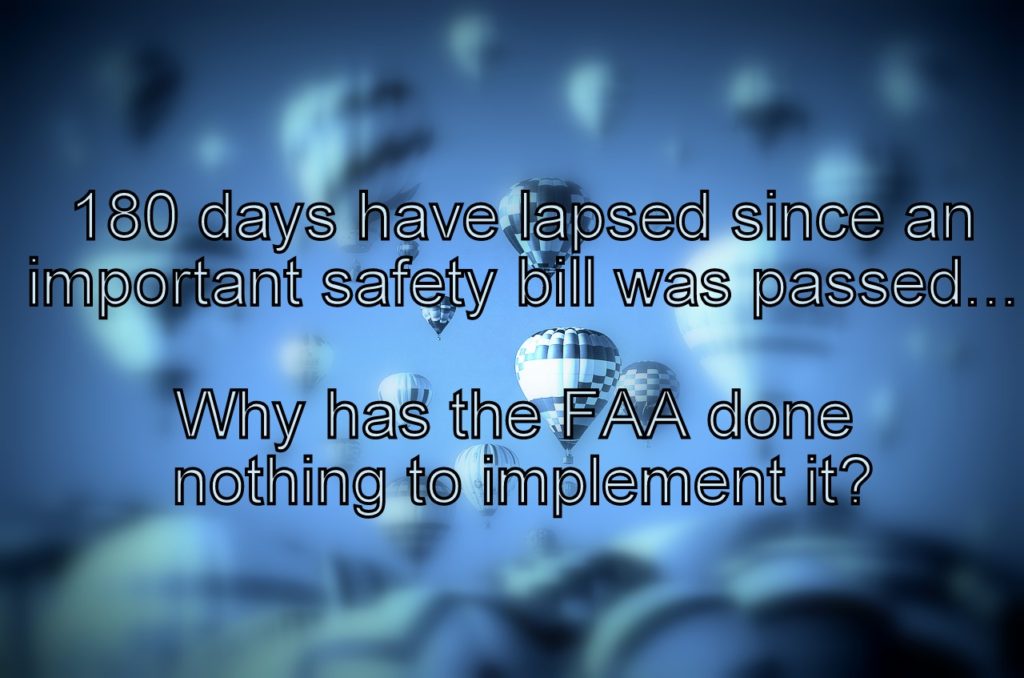 I posted a blog a few months ago about the tragic balloon crash in Caldwell County that killed 15 people, including two who had deep roots in Brazos County.  A bill proposed by U. S. Representative Lloyd Doggett of Texas requiring commercial balloon pilots to have medical certificates passed with bipartisan support and became effective on October 5, 2018.  The bill required the FAA to implement the law within 180 days.  Amazingly, the FAA has done nothing to implement this important, common sense safety law in more than 180 days.  This is inexcusable. 
Representative Doggett has not ignored the FAA's negligence and dereliction of duty. Represent Doggett's letter to the FAA demanding action is available at https://www.documentcloud.org/documents/5990449-Lloyd-Doggett-letter-to-Elwell-Re-Balloon-Safety.html. 
Systemic problems within the FAA have also been revealed by the Boeing 737 Max crashes where we learned that Boeing itself is largely responsible for certifying the safety of its aircraft.
It has become quite popular to extol the virtues of deregulation, voluntary compliance, self-regulation, replacing mandatory rules with guidelines and, in the case of Boeing and probably others, allowing regulated companies to actually perform the work required of the regulatory authority. Voluntary compliance with safety and environmental rules and regulations sounds good, but usually doesn't work for many reasons: greed; cost saving; poor training; lax supervision; lack of expertise; undue haste; lack of concern for worker and public safety; bad corporate leadership; high employee turnover; lack of a meaningful penalty for non-compliance, ordinary negligence and recklessness; bad safety culture; etc. The list of reasons could go on and on.
Trump is very proud of his record of deregulation and lax regulatory enforcement. As an example, according to recent news reports OSHA has just 875 safety inspectors and investigators covering the entire nation. This is a 14% decline since 2010 and the lowest number in the history of the agency.  What kind of message does that send to businesses and workers about the importance of work place safety and following the rules?
There is a sweet spot between too much and not enough regulation. Surely it is not too much to demand that commercial balloon pilots have a current medical certificate verifying their fitness to fly.