Trump vs the Environment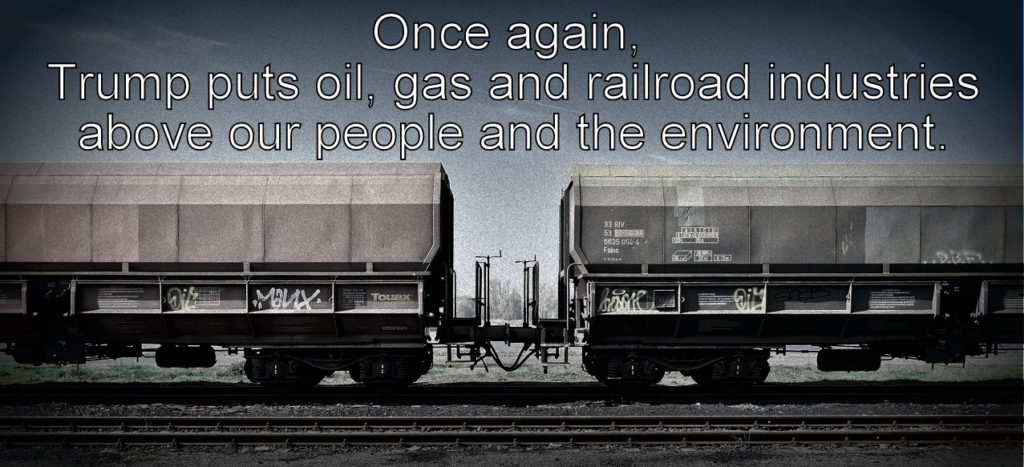 On November 1, 2019 it was reported that the Trump administration intends to loosen restrictions on transporting LNG (liquefied natural gas) by rail.  This move is intended to help the oil, gas and railroad industries.  However, tank cars full of explosive natural gas traveling through cities and towns is an obvious danger to people and property.  The crash of an oil train in Quebec a few years ago which killed 40 people and did enormous damage to the city of Lac-Megantic is a prime example of what can happen. 
On the other hand, pipelines have their own risks.  The Keystone pipeline has already had 3 crude oil spills in less than 3 years.  The latest spill occurred 10/29/19 near Edinburg, North Dakota.  9,120 barrels (383,000 gallons) of oil were released. Opponents of the highly controversial Keystone XL pipeline, which would carry 830,000 more barrels of oil per day from the oil sands of Alberta, Canada, have long contended that the pipeline will be harmful to the environment. They have a point.  Pipeline failures are not at all uncommon.
What is safe for the transportation of hazardous substances may be debatable, but everyone agrees that heavy metals such as arsenic, lead, cadmium and mercury are not safe.  Nevertheless, the Trump administration intends to weaken the rules that govern the storage of coal ash, the residue produced from burning coal.  Coal ash is typically stored in ponds which are vulnerable to leaching and failure. After catastrophic spills into public waterways in Tennessee and North Carolina, the EPA and the state of North Carolina put in place more stringent rules regarding the storage of coal ash, the testing of local water quality, the eventual closure of storage ponds, and the installation of modern wastewater treatment technology.  It was estimated that the regulations would stop 1.4 billion pounds of toxic metals and pollutants from being discharged into rivers and streams that are a source of drinking water. 
Power plants discharge more than 1 billion pounds of pollutants every year into 4,000 miles of rivers.  Under Trump's new rules, coal plants won't have to clean coal ash of heavy metals from their waste water before dumping it into waterways and won't have to cleanup 400 plus unlined coal ash dumps that leach into groundwater. 
This is yet another economic gift by Trump to the failing coal industry intended to ingratiate himself to the voters in the coal states.  Despite all Trump has done to prop up the coal industry, coal mining companies continue to file for bankruptcy and coal-fired power plants continue to close due primarily to the cheaper cost of natural gas and to some extent the availability of power generated by wind and solar.  Based upon the coal industry's natural progression of decline brought about by capitalism and not regulation, doesn't it seem most likely that all of these toxic coal ash storage ponds will eventually have to be cleaned up by the taxpayers?
Finally, on November 4, 2019 it was announced that Trump was taking the formal steps necessary to withdraw the U.S. from the Paris Agreement on climate change.  This was not a surprise inasmuch as Trump considers global warming and climate science to be a "hoax" and has systematically done everything within his power to make sure the U.S. can't possibly meet its greenhouse emission goals.  Nevertheless, it is embarrassing to see the U.S. pull out of a 200 nation agreement that it was principally responsible for negotiating.  It will also be remembered that George W. Bush withdrew the U.S. from the 1997 Kyoto Protocol.  We no longer have a shred of credibility on this vital issue