FAA Balloon Pilot Update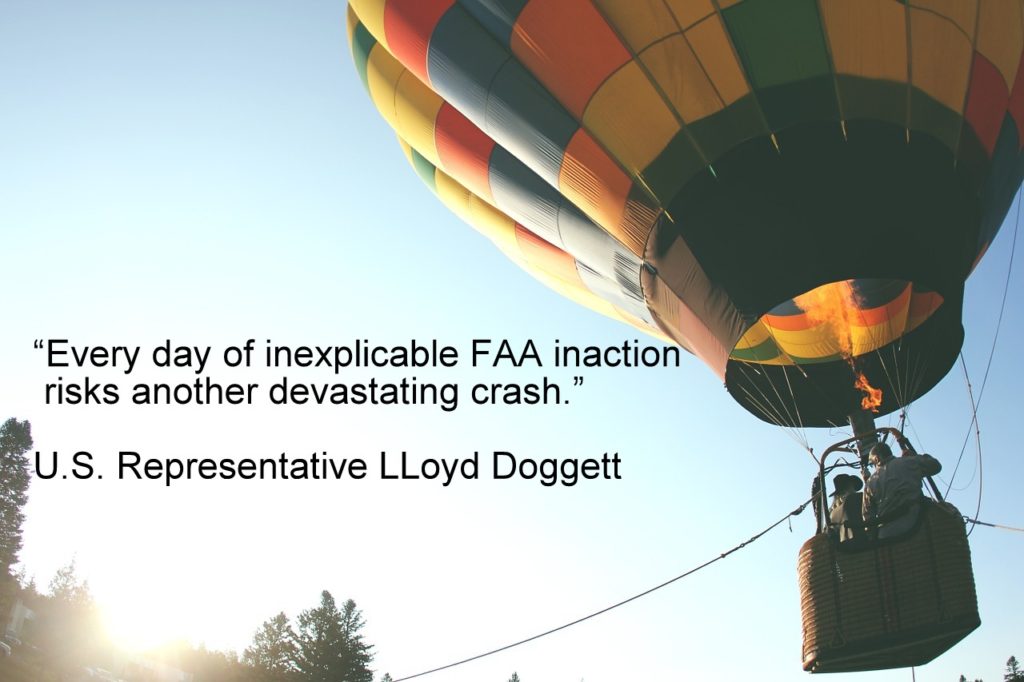 I recently wrote about the FAA's failure to implement a law requiring commercial balloon pilots to obtain medical certificates verifying their fitness to fly passengers. Despite prodding from Representative Lloyd Doggett of Austin, the FAA has still not acted.
Reprinted here is an update from Representative Doggett regarding his continuing efforts to force the FAA to act.
House Approves Doggett Amendment Urging FAA Action on Balloon Safety
 Washington, D.C. The U.S. House of Representatives just approved an amendment sponsored by U.S. Representative Lloyd Doggett (D-TX) using the appropriations process to respond to the failure of the Federal Aviation Administration to fulfill its statutory duty in assuring greater safety on commercial balloon flights. Doggett's amendment transferred $7.5 million from the Federal Aviation Authority's (FAA) finance management account to the aviation safety account. This comes as the FAA continues to refuse to comply with and implement Section 318 of the FAA Reauthorization, which was signed into law on October 2, 2018. This law results from a prior Doggett amendment requiring medical certificates for commercial balloon pilots. 82 days have passed since the deadline for the FAA to act. Doggett's safety effort was prompted by the July 30, 2016 commercial balloon crash near Lockhart, Texas, which tragically killed 16 passengers, becoming the largest balloon crash in our history and the Nation's worst aviation disaster since 2009.
"Every day of inexplicable FAA inaction risks another devastating crash," Rep. Doggett said. "We cannot bring these precious lives back, but swift action could prevent future losses. I authored this amendment in another effort to get the FAA to take the safety of American families—and our law—seriously. Only this past weekend, a noncommercial hot air balloon crash at a Missouri festival demonstrated related dangers and the need for medically-fit pilots. Long past time for the FAA to just do its job!"
After the Lockhart tragedy, it became clear how preventable this crash was. After years trying to get the FAA to act, and repeated efforts to get his hot air balloon safety amendment attached to a must pass bill that never seemed to move, finally —over two years after the accident—the legislation requested by the survivors became law in the fall of 2018. However, to date, the FAA has refused to comply with the law's requirement. Rep. Doggett also wrote the agency in May 2019 seeking answers for delay.
The FAA's negligence or outright disobedience is inexcusable.