Too Poor to Apply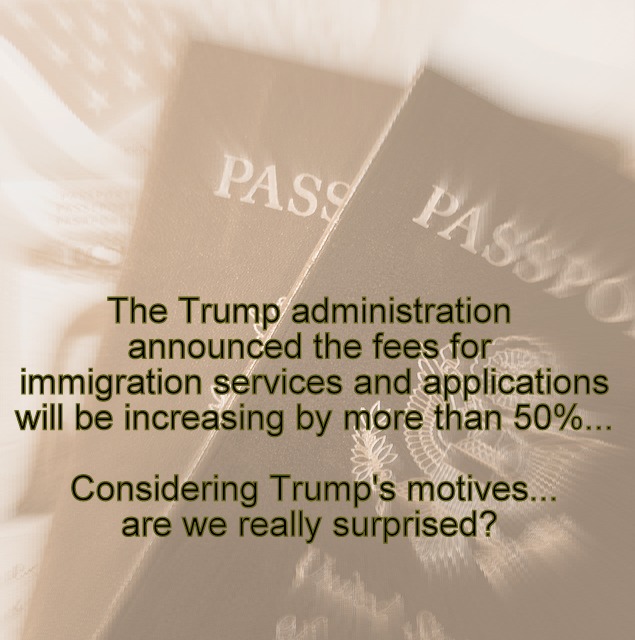 Trump's point man for keeping people from "s___hole" countries out of the U.S. is Stephen Miller.  On November 19, 2019, The New York Times ran a story about Miller's affinity for White supremacists  and their ideology.  He is also a fan of President Calvin Coolidge who had strong opinions about race and ethnicity and who choked off immigration from southern and eastern Europe, and he was on the staff of Jeff Sessions, a chief architect of Trump's immigration policy.  The story was based, in part, upon a trove of emails leaked by Katie McHugh, a former Breitbart editor.  If you have ever wondered who comes up with our punitive immigration policy and what their motives are, I recommend this article.
Bearing in mind who is behind the policies and what his motives are, it should not be surprising that the Trump administration announced in the Federal Register November 14 that the fees for immigration related services are going up.  The fee for becoming a naturalized citizen will increase from $640 to $1,170 (83%).  The cost of applications for Lawful Permanent Residence will increase to $2,195 from $1,225 (79%).  Renewing DACA status will cost $765.00, up from $495.00 (55%).  And, (drumroll), it will now cost $50 to apply for asylum.  Only 3 other countries in the world charge to apply for asylum.  What's more, based upon my personal observation of the circumstances of those waiting at the border in Mexico to apply for asylum, you probably couldn't gather up a total of $50 by emptying the pockets of a random 100 people waiting to apply for asylum.  To compound the problem, fee waivers that make it possible for low-income immigrants to apply are being eliminated.
Guess where the fees will be going?  The money will be transferred from the U.S. Customs and Immigration Service, the agency which actually handles immigration, to Immigration and Customs Enforcement (ICE), the agency in charge of apprehension and detention. 
Just when you think it can't get any worse, know that it can and will because Stephen Miller is staying awake nights thinking of what he can do next.